Jump to Recipe
Mouthwatering steak quesadillas made with seasoned flank steak or skirt steak, sauteed onions, and lots of cheese! Serve with a side of salsa, guacamole, and sour cream for the best lunch or dinner ever!
You are watching: How To Cook Steak Quesadillas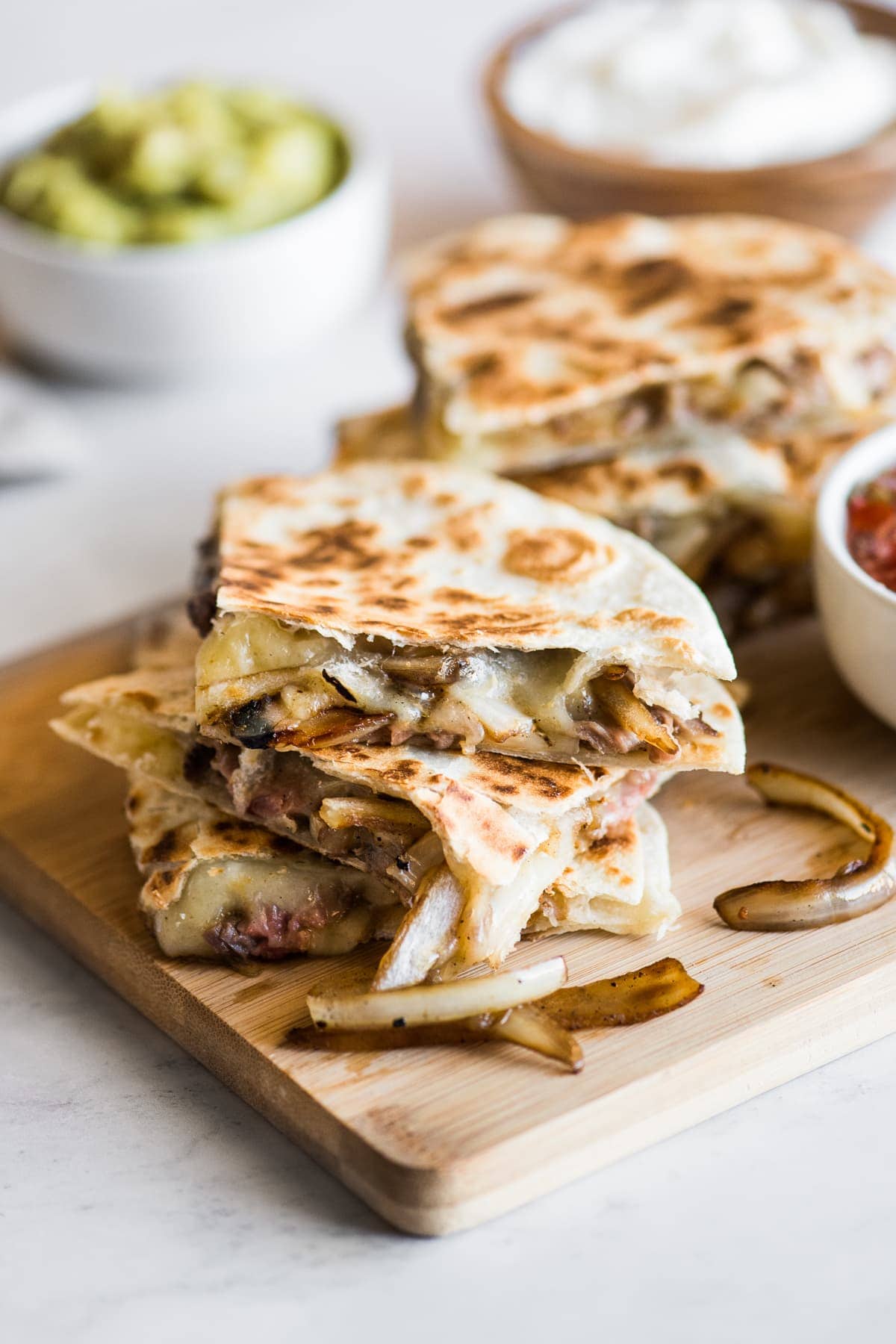 These are the best steak quesadillas you'll ever make! Filled with lots of melted cheese, sauteed onions, and tender seasoned steak, you'll be full, happy, and satisfied after eating one of these. What more could you ask for?
Serve everything with a side of shredded lettuce, salsa, sour cream, and guacamole for the ultimate restaurant experience at home.
See more: How To Make Eggs And Bacon | Coral's Blog – Food Blog – Cooking Guide
(Love quesadillas? Try these cheese quesadillas and breakfast quesadillas!)
The best meat for steak quesadillas
Flank steak and skirt steak are my favorite cuts of beef for steak quesadillas. They're easy to work with and fairly inexpensive. Whichever cut of beef you use, make sure to cut it as thinly as possibly and against the grain to prevent it from being too chewy. You can also cut it into small bite-sized chunks for easy eating in the quesadillas.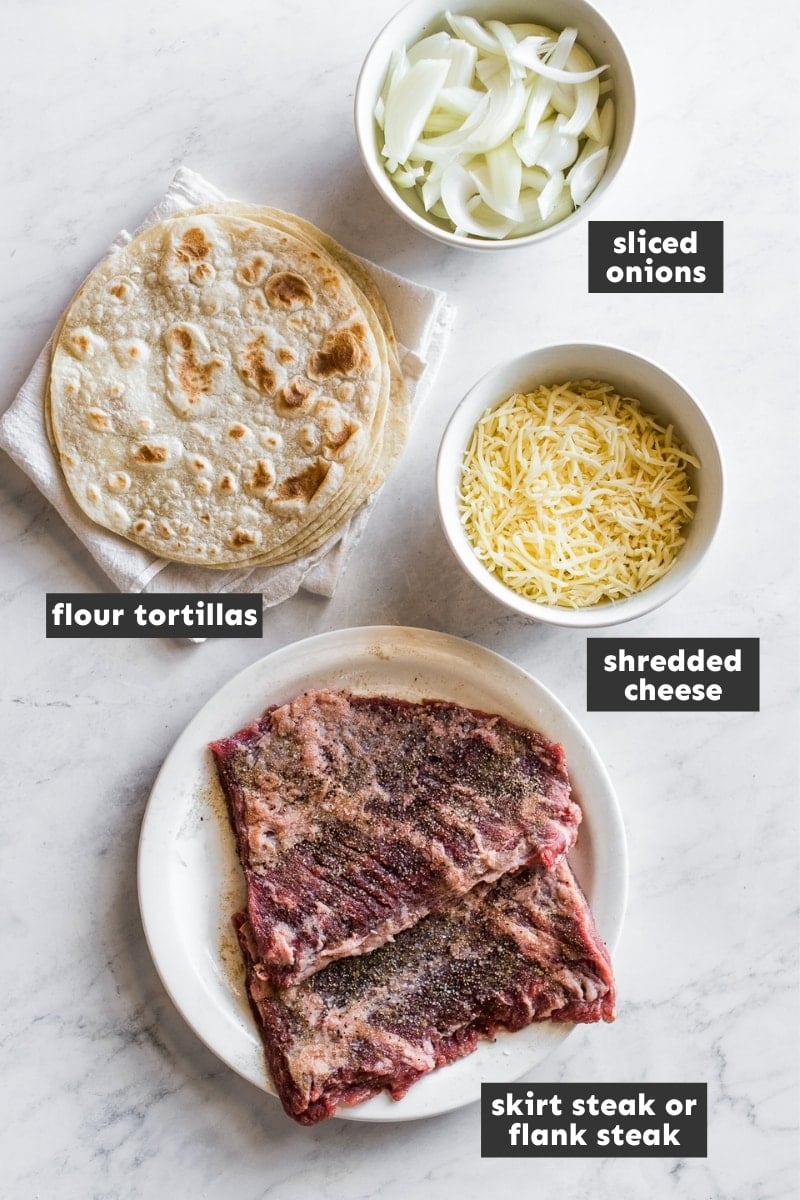 Ingredients You'll Need
Tortillas – You'll need 10 (8-inch) medium flour tortillas, also known as "soft taco size." Each quesadilla will use 2 tortillas. You could use smaller or larger tortillas if you have them, just know that you may need to adjust how many you'll need to in order to use up all the fillings.
Shredded Cheese – You'll also need some shredded cheese. I used 2 types – mozzarella and monterey jack – because I like the flavor combination of both, but you can use just one type if you prefer.
Read more: How To Make Spaghetti Sauce With Ragu | Coral's Blog – Food Blog – Cooking Guide
Steak – You'll need about 1 pound of flank or skirt steak. I seasoned mine with a simple blend of salt, pepper, garlic powder, onion powder, and cumin.
Onions – I love the addition of sauteed onions to my quesadillas, but you can omit them if you're not a fan.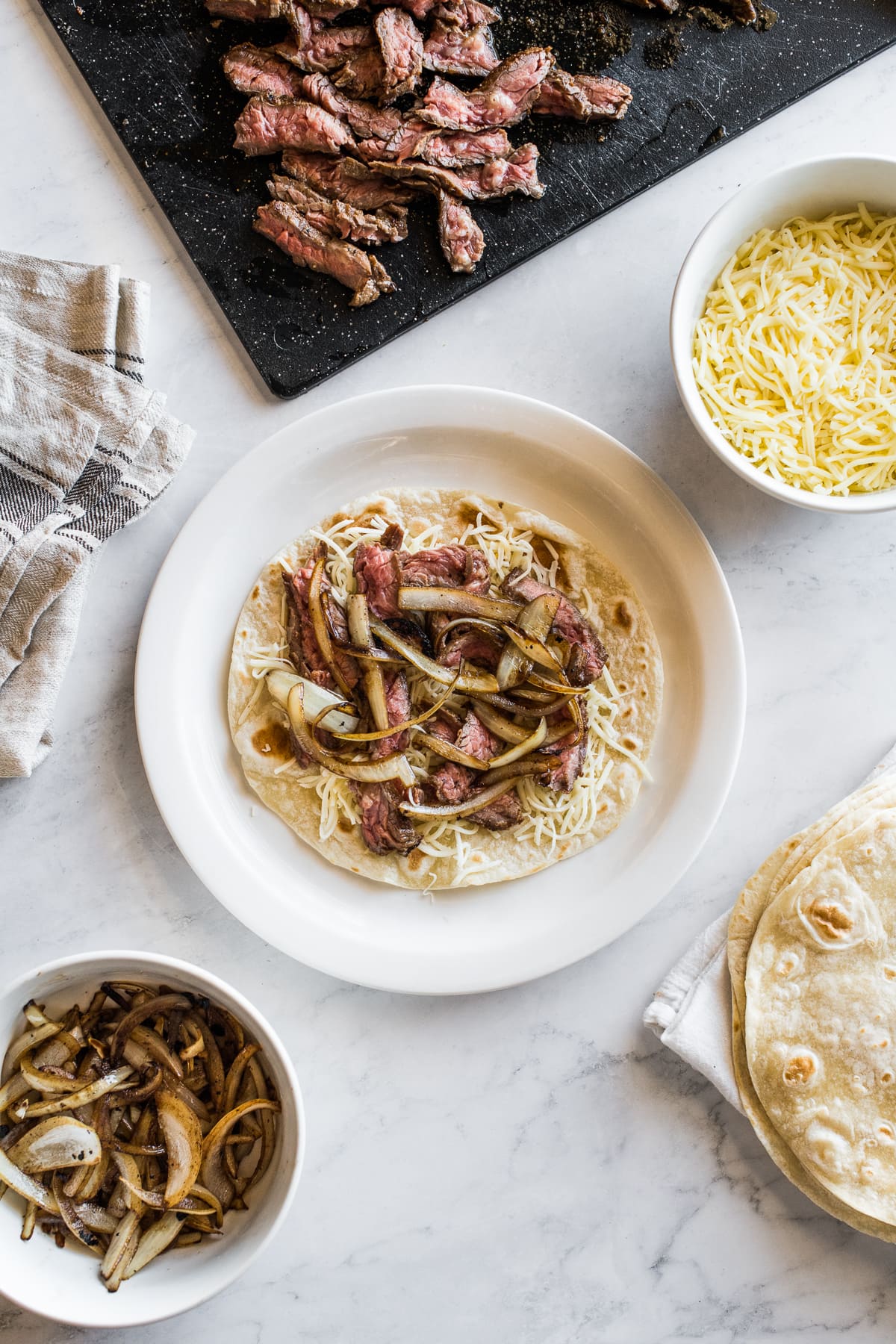 How to Make Steak Quesadillas
Cook the steak: Season the steak with salt, pepper, garlic powder, onion powder, and ground cumin on both sides. Then cook in a large skillet over medium-high heat for about 4-8 minutes per side until cooked to your preferred doneness.
Cook the onions: In the same skillet, saute the onions until softened and translucent.
Assemble quesadillas: Lay one tortilla flat and layer with shredded cheese, some steak, onions, and then more cheese. Top with one more tortilla and transfer to a skillet.
Cook quesadillas: Cook the quesadillas over medium heat until the bottom of the tortilla is golden brown. Carefully and quickly flip the tortilla over with the help of a spatula, and cook the other side until the cheese is completely melted.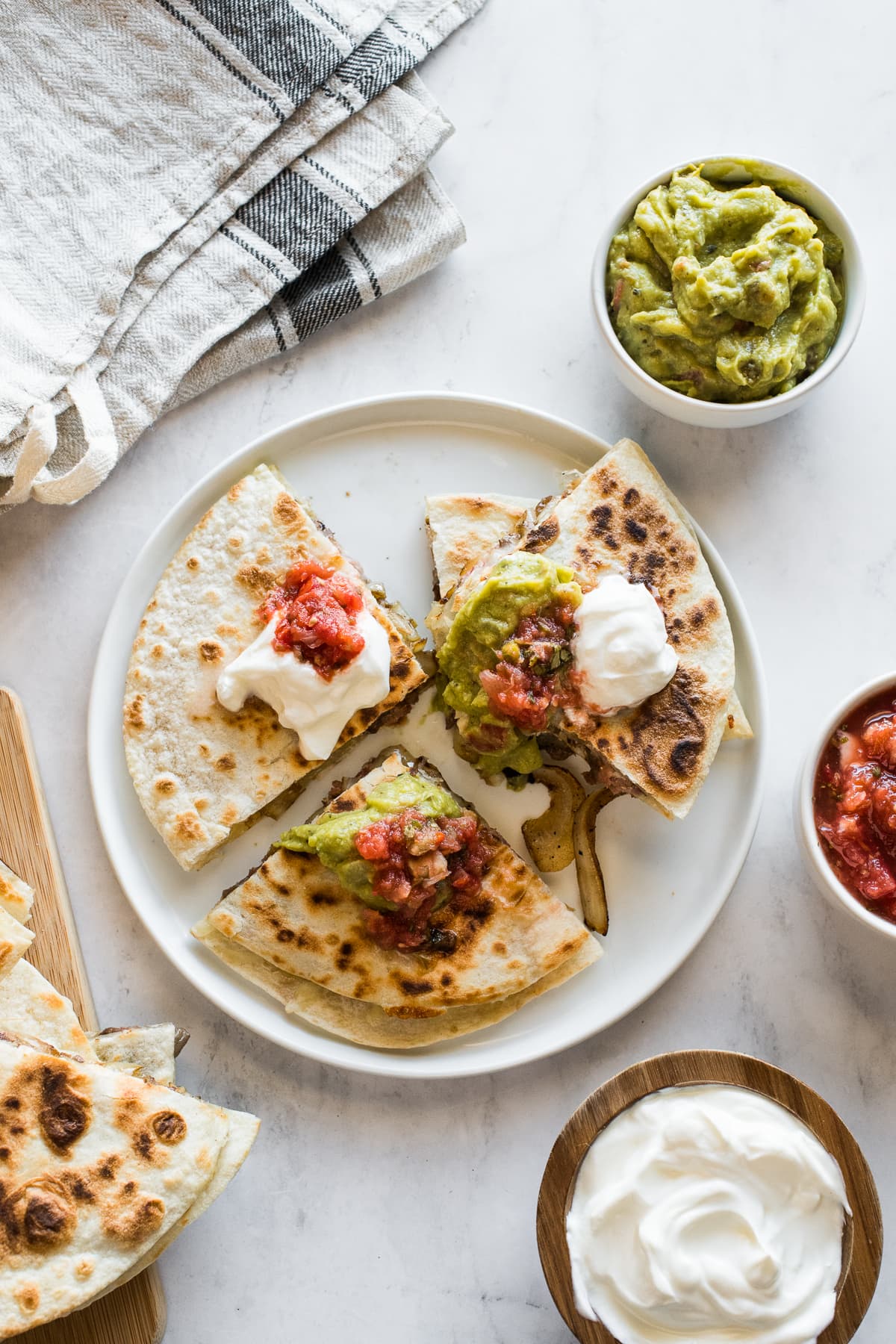 Tips and Substitutions
Feel free to use any leftover steak you have in the fridge. Leftovers from steak fajitas or carne asada would be perfect!
Love spicy food? Saute some sliced poblanos or jalapenos along with the onions to give each quesadilla a kick!
Storing and Reheating
To store, transfer the cooked tortillas to an airtight zip-top storage bag or container and refrigerate. They will keep fresh in the fridge for up to 4 days.
To freeze, let the cooked quesadillas cool down completely. Then wrap them individually in plastic wrap. Place the wrapped quesadillas in a freezer-safe zip-top bag or container and freeze for up to 3 months. Let them thaw overnight in the fridge before reheating them.
To reheat, heat the quesadillas on both sides in a skillet over medium heat until fully warmed through. You can also place them on a baking sheet and heat them in a 350ºF oven for 10 minutes, or until warmed through.
Read more: How To Get Big Muffin Tops | Coral's Blog – Food Blog – Cooking Guide