Add some licorice-flavored crunch to your next salad by slicing up some fennel. Here's how! Our Knife Skills series is sponsored by Cutco.

What is Fennel?
Fennel is a great versatile vegetable to use in the fall and winter, but you might be intimidated if you haven't used it before. The white bulb has a sweet licorice flavor and adds great crunchy texture to dishes when used raw but can also be cooked to soften the taste and change it to a more silky texture. The tougher stalks can be used in similar ways as celery, and the feathery fronds can be chopped to use as an herb or garnish like you would with dill. Slicing it for a recipe however can be kind of daunting given its unusual shape. Don't worry! It's super easy and will take you no time at all.
You are watching: How To Cut Fennel Bulb Into Wedges
How to Cut a Fennel Bulb
Step #1
Read more: How To Make Potato Flour Without A Dehydrator | Coral's Blog – Food Blog – Cooking Guide
Use a classic chef's knife to cut off the green fronds close to the top of the bulb. Save the fronds, because you can chop up the wispy leaves to use as an herb in salads!

Step #2
Cut the bulb in half lengthwise.
Step #3
Cut a wedge out of the base of the fennel bulb to remove the root and core of the bulb.
Step #4
Read more: How To Cook Chicken Oysters | Coral's Blog – Food Blog – Cooking Guide
Place the bulb cut side down on your board and slice the fennel crosswise or lengthwise, depending on what your recipe calls for. Here, we sliced the fennel crosswise in preparation for our Autumn Fennel & Orange Salad.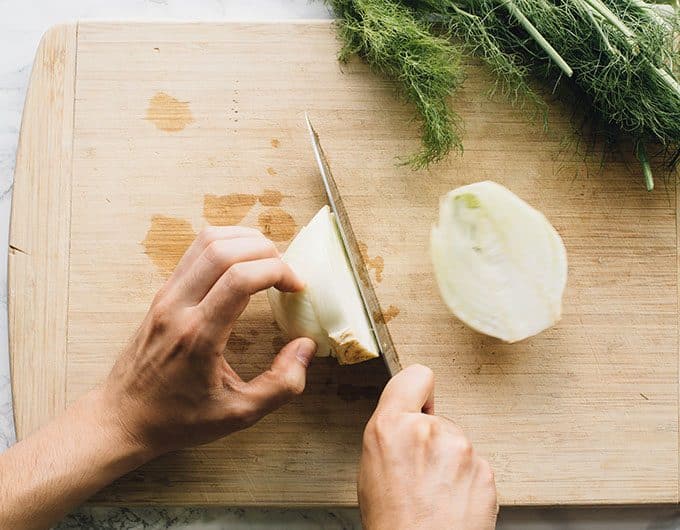 Print
Disclosure: This article is sponsored by Cutco. All opinions are ours and honest.
This post originally appeared in October 2016 and was revised and republished in March 2020.
Read more: How To Cook Turkey Leg | Coral's Blog – Food Blog – Cooking Guide